Wall Mount Copper Restaurant Range Hoods
Functional and decorative
We offer several wall-mount range hoods styles, and we build them for easy installation. We do not make or sell blower units, but we will study all technical details of your chosen blower unit and construct your hood to perfectly fit your blower unit, for fast and secure installation of the blower unit. Our hoods are made of hand-hammered copper welded to a handmade wrought iron frame. We will work by phone and internet with your installer to get each detail right – duct openings, location of mounting fixtures, etc.
Pick a posted model, let us custom fit one for you, or send us your photos or drawings. We will work with you to make exactly what you want. We will quickly quote you a fair price, with crating, shipping, and insurance included. Call us at (256) 283-6496.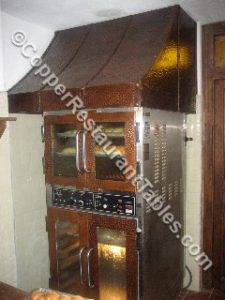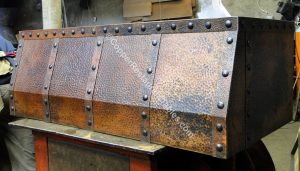 Rustic Style
The shorter height of this style allows us to offer it at a lower price. This one is in the old natural patina.