Copper Tap Handles
We offer round, square, triangular, and rectangular tap handles in each of our four copper patinas. Old Natural, Somber, and Antique are represented. We can hand hammer text , logos, or many other types of motifs into your handles.
Each handle must be at least 1 inch in diameter at the shortest width to place the brass insert that your tap attaches to. We can make the copper tap handle the length of your choice, pictured are two and a half inch and nine inch copper tap handles. The more you order the less expensive each one gets. Call us today to share your ideas for your copper tap handles and get a quote.
Any length and multiple shapes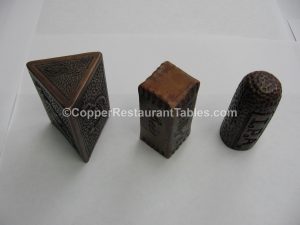 3 inch Copper Tap Handles
These were custom made for a kegerator and needed to be 3 inches long. Copper tap handles ordered from us can be any length an any one of these shapes. The triangular tap handle is in the Antique Patina. THe square tap handle is in the old natural patina. The round tap handle is in the Somber patina.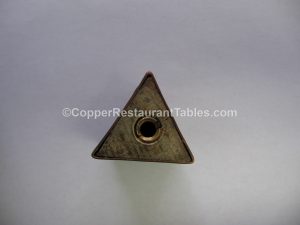 Wood Interior with Custom Brass Insert
The custom brass insert screws into the wood interior of the copper tap handle. The interior of the brass insert then screws onto standard tap treads. With this system we can make unique tap handles for your restaurant, beer brand or just for you. We can hand hammer your text or logo into the handle.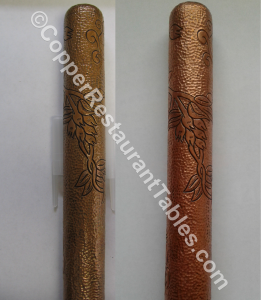 9 inch Copper Tap Handle
This circular copper tap handle was custom made for one of the owners of CopperRestaurantTables.com. It features his Initials and a hop bine wrapping itself around the entire handle. It arrived in the shiny patina but was unwaxed. In a few weeks it tarnished to cafe patina as you can see on the left. it was easy to restore the shiny patina on this handle and keep it shiny with a little paste wax, as you can see on the right.