Copper Bar Stools
We Make Only the seats
If you are looking to refurbish your bar stools or want to set up your bar area from scratch our bar stool seats are a beautiful option.
We can point you in the right direction for bases to go under these copper bar stool seats. Along with an order of our tables, table tops, or bar tops, these seats are extremely affordable.
Our copper bar stools are green because we use recycled copper.
Picture to the right is a stool seat in old natural patina.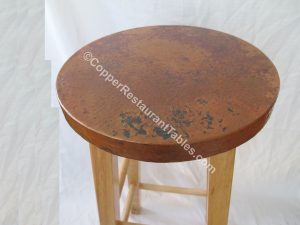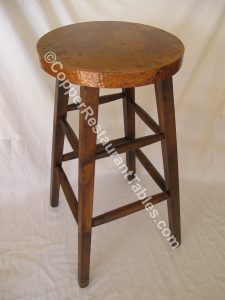 Old Natural Patina on a Dark Wooden Base
A copper bar stool seat on top of a dark wooden base would look much like this from a distance whether you choose our café, new natural or our old natural patina.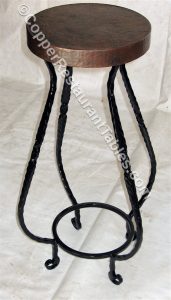 Somber Patina Stool Seat
Unfortunately this stool base is not currently available nor will it likely ever be, but the seat is in our somber patina.
Now shipping to many locations in Canada!
Copper is a great material to enhance the luxurious atmosphere of your restaurant.
Custom easy to install products to meet your needs. Using CAD or scale drawings we have worked with builders, contractors, designers, architects, do it yourself, diy, owners and interior designers to fabricate each and every possible material or surface from copper for a wide variety of restaurants whether you are building from the ground up or remodeling an existing restaurant or space.