Solid and Hammered Copper Sheets & Panels
We also offer solid copper strips
Call Sam 256-283-6496 for Quote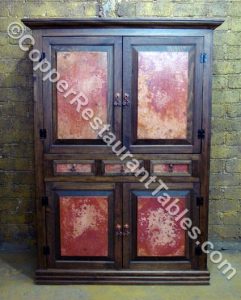 We offer panel inserts for cabinets, furniture and any other application customers might request.
We work with solid, heavy hammered copper. The copper sheets & panels we produce are made of high quality, Mexican hand- hammered copper that is recycled and is certified to be lead free (98% -99% Copper, 1% zinc and trace amounts of iron). We cut and ship the panels as requested. Our product does not come in rolls because it is too rigid and thick to be able to successfully conform to a roll. You can speak directly with us about our products. Call us at (256) 283-6496.
The panels can be used for furniture insets and tops. They also can be used as kitchen splash panels, kitchen cabinet insets, wall mountings, column covers. Sheets are offered in 18, 20, and 23 gauge thicknesses. We will be happy to discuss your project and make specific recommendations as to the thickness needed for your project. A company owner/specialist is available on the phone. In addition, Copper Restaurant Tables/Mexican Home Art will be able to send small samples upon request by phone. These samples will show the 6 different available patinas as well as the thickness; or proceed to the colors and Patinas page on the menu to see photography of our patinas. Your custom made copper sheets & panels can be hammered or smooth in most colors (patinas).
Now shipping to many locations in Canada!
Copper is a great material to enhance the luxurious atmosphere of your restaurant.
Custom products to meet your needs. Using CAD or scale drawings we have worked with builders, contractors, designers, architects, do it yourself, diy, owners and interior designers to fabricate each and every possible material or surface from copper for a wide variety of restaurants whether you are building from the ground up or remodeling an existing restaurant or space.