Copper Bar & Counter Tops
Surfaces for Decorative and Functional Spaces
Call Sam 256-283-6496 for Quote
From bar tops to bathroom counter tops to kitchen passes, these copper surfaces can and have been made in many custom shapes and sizes. We can integrate a drink rail or a sink. The underside supports are built to base needs. We can custom fit your copper bar & counter tops to meet your needs. Please note that pieces longer than 9 feet will be much more expensive than seaming two or more smaller pieces together. If you desire a long copper bar top or a long copper counter top we recommend that you order it in several pieces that can easily and unobtrusively be seemed together.
Because we work with the best craftsmen in the business we can custom build copper bar or counter tops to your specifications. Dimensions will need to be provided to us by either the customer or the installer to guarantee a correct fit. A copper backsplash can be integrated. Should you desire one or more motifs on your copper bar top or copper counter top we can do that also. Each logo or motif is handcrafted in the size, patina, number and placement of your choice. Give us a call today to receive a quote for your copper bar top or copper counter top! (256) 283-6496. Now shipping to many locations in Canada!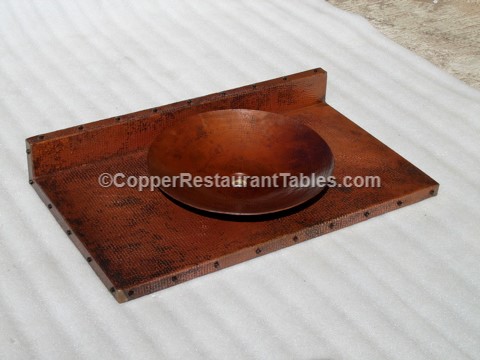 Counter Top with integrated Vessel Sink
This in in our Somber patina. With this configuration any restaurant can have a beautiful an functional option in a restroom. This one could easily have been made larger to accommodate two sinks. Space for a faucet is also not a problem, just ask the installer to let us know the details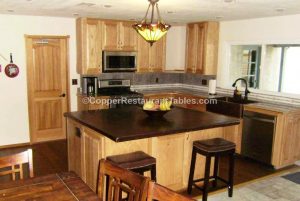 Our copper counter tops offer elegance to any location.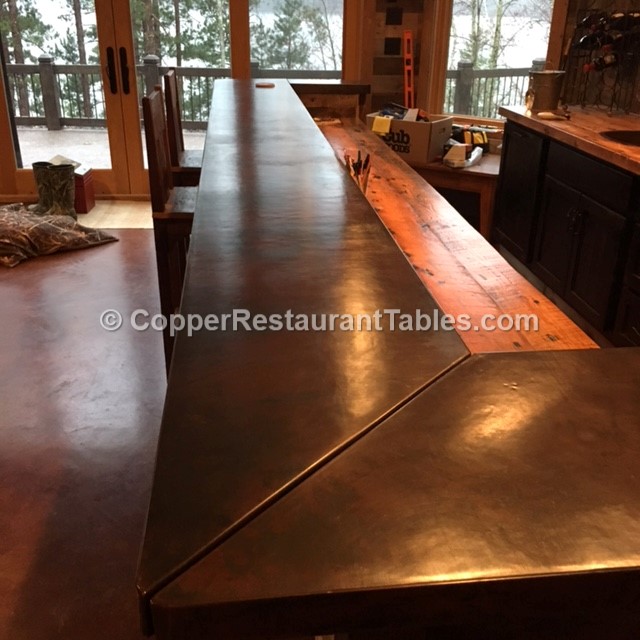 Each copper bar top is unique because the length, width and depth of each is a little different. Call for an estimate because each copper bar top has its unique features and demands.