Restaurant Style and Size Copper Range Hoods
Make your customers wow over the beauty in your kitchen
Let us fit an elegant copper range hood into your restaurant. We do not make or sell blower units, but we will study all technical details of your chosen blower unit and construct your hood to perfectly fit the blower unit, and so that installation of the blower unit is fast and secure. Our hoods are made of hand-hammered copper welded to a handmade wrought iron frame. We will work by phone and internet with your builder and installer to get everything right – duct openings, location of mounting fixtures, etc.
Show us your kitchen or dining room plans and let us custom fit a copper range hood for you, or send us your photos or drawings. We will work with you to make exactly what you want. We will quickly quote you a fair price, with crating, shipping, and insurance included. Call us at (256) 283-6496.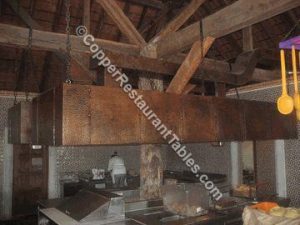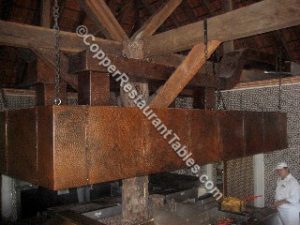 Just Panel Covers?
We can easily just make copper covers for the range hood you already have in mind. Just send us the quantity and dimensions. We can even hand hammer your logo into the copper panels. Somber Patina.